Training and Technical Assistance (TTA) Division
Since the health center program began, the National Association of Community Health Centers (NACHC) has served as a trusted resource, delivering training and technical assistance (TTA) to health centers in partnership with Primary Care Associations (PCAs), Health Center Controlled Networks (HCCNs), national TTA partners and federal agencies. NACHC proudly serves as the National Resource Center for Health Center TTA, which includes service as a convener, advisor, and coordinator of the U.S. Health Resources and Services Administration (HRSA) National TTA Partners (NTTAPs).

Meet the TTA Team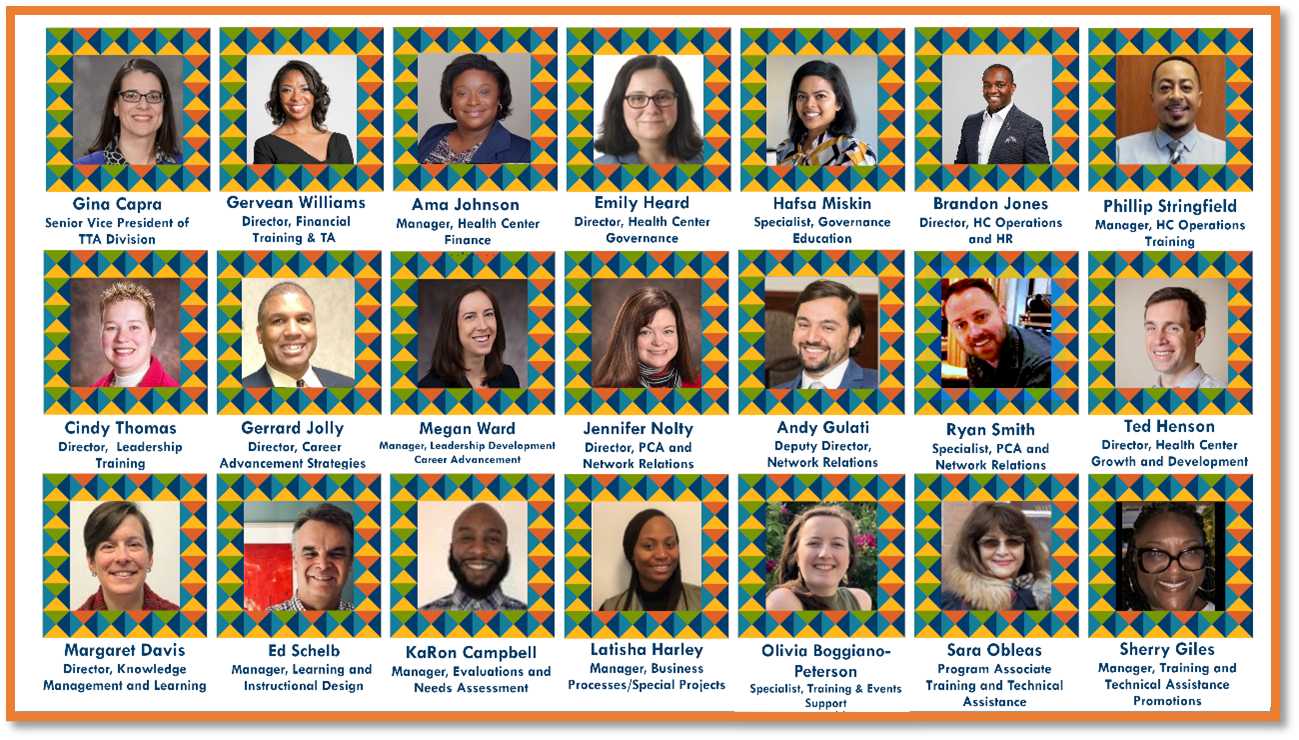 Training and Technical Assistance (TTA) Portfolio Areas and Fact Sheets
What is offered as Training and Technical Assistance (TTA)? In-person and virtual events, digital resources, and one-on-one assistance is offered in core content areas including Leadership and Workforce Development, Operational Excellence and Financial Management, Board Governance and Health Center Growth and Expansion. Click on the thumbnail for a fact sheet on each portfolio area.
Financial Management & Reimbursement
Governance
Health Center Growth & Development
Knowledge Management & Learning
Leadership Development & Career Advancement
Operations & Human Resources
PCA & Network Relations
Training & Technical Assistance Division
National Training Workshops
NACHC's training program strives to empower adult learners with strategies and best practices to address challenges facing today's health centers. National training workshops are offered throughout the year. Download the 2022 National Training Workshop Schedule.
Online Learning Opportunities and Other Resource Highlights
4-Part, Virtual Learning Collaborative: The Health Center Resource Clearinghouse: Developing Strategies for Engaging Learners:
We are looking for training and development managers and staff from health centers and PCAs who are interested in strengthening the Clearinghouse's efforts to build structured ways to learn. The focus will be on bundling professional development resources, refining promising practices in adult learning and instructional design, micro-learning capacity building, and improving ways for health center staff to participate in cohort-based learning collaboratives.
Introduction to Resources for Health Center Boards: This short video points health center board members to numerous NACHC resources, from eLearning modules on financial oversight (both in English and Spanish) to guides for governing during the COVID-19 pandemic.
NACHC Resources to Support Our Veterans: This short video highlights Technical Assistance resources to support health centers increase or enhance their service to their military Veteran patient population.
Primary Care Association (PCA) Chief Executive Officer (CEO) Core Competencies: This document outlines 12 domains, related tasks, and behavioral examples for Core Competencies foundational to the success of a Primary Care Association CEO.
How to Become a Look-Alike Health Center eLearning Module: This online course is designed to help your health center determine if becoming a Health
Center Program Look-Alike is the right path, define the eligibility, application requirements, and timeline for Look-Alike initial designation; and demonstrate organizational and operational readiness in your application.
Strategic Investments in Telehealth and Digital Tools for Health Centers: This short guide describes FQHC telehealth utilization and barriers to adoption pre and during COVID19 pandemic.
Coming Spring 2022 – Highlighted Examples:
2022 Revenue Cycle Learning Collaborative | May – June 2022: The target audience for this offering are health center Revenue Cycle Leads, Front Office managers and IT managers.
Leading Positive Team Performance Through Resilience and Happiness: NACHC will offer a national webinar, workshop series, and train the trainer event based on the works of positive psychology researcher and NYTimes best seller, Shawn Achor. Shawn's famed "The Happiness Advantage" course provides a sustainable approach to increasing optimism and resilience, reducing stress, and enhancing productivity at the individual, team, and organization level. Stay tuned for dates this spring.
For information about upcoming training events and resources, visit nachc.org/trainings-and-conferences/.
Virtual TTA Office Hours During NACHC's 2022 Policy & Issues (P&I) Forum
Meet NACHC's Training and Technical Assistance team! Click the Zoom links under the following topics at the times indicated below! Contact us anytime at trainings@nachc.org

Monday, February 14 | 12:30 - 1:00 pm ET: Collaboration with HRSA and other Training Partners, Veterans Access, and TTA Program Overview
Host: Gina Capra, Senior Vice President Training and Technical Assistance
https://nachc.zoom.us/j/98821126398?pwd=N2pzTXBqSi9UREpHTklaZWxxaHY4dz09
Tuesday, February 15 | 11:30 am – 12:00 pm ET: 30-minute Health Center Board Governance Resource Overview
Host: Emily Heard, Director Health Center Governance Training and Hafsa Miskin, Specialist, Governance Education
https://nachc.zoom.us/j/91212226563?pwd=algwTDhoeWUzaGhNcmZaeEFDVk1vUT09
Additional Resources Available on the Health Center Clearinghouse www.healthcenterinfo.org
HRSA's Bureau of Primary Health Care (BPHC) has charged the National Association of Community Health Centers (NACHC) with creating a curated online resource repository to meet the information and learning needs of health center professionals and board volunteers. With tailored technical assistance materials from many partners, including 21 National Training and Technical Assistance Partners (NTTAPs), Primary Care Associations (PCAs) and Health Center Controlled Networks (HCCNs), the Health Center Resource Clearinghouse addresses the demands placed on a busy public health workforce by providing curated resources and tailored tools


Unless otherwise noted*, all projects listed are supported by the Health Resources and Services Administration (HRSA) of the U.S. Department of Health and Human Services (HHS) as part of an award totaling $6,625,000 with individually noted percentage financed with non-governmental sources. The contents are those of the author(s) and do not necessarily represent the official views of, nor an endorsement, by HRSA, HHS, or the U.S. Government. For more information, please visit HRSA.gov.