NACHC Training and Technical Assistance (TTA)
As a trusted resource to health centers around the country, NACHC's TTA program strives to empower adult learners with strategies and best practices to address challenges facing today's health centers.
Small, cohort-based training workshops are offered nationally, and virtually, throughout the year. Online learning events and other educational resources are provided on an ongoing basis. Learn more at https://www.nachc.org/trainings-and-conferences/.
Current TTA Online Learning Events

Fall 2020 Finance Office Hours (FOH) for Health Centers Strategies to Manage Operations During COVID – 19 | November 18 & December 16: 2:00 – 3:00pm ET
NACHC offers expert content, peer sharing and discussion of forward-thinking approaches to financial operations in light of the national election, policy debates and health center funding requirements.

Leadership Institutes
New CFO Institute (CFOI) | Mid- December 2020 – June 2021
This six-month program offers big picture concepts, strategic leadership training and peer networking for new health center chief financial officers (CFOs). However, experienced CFOs may benefit from participating too! Applications will be accepted starting in late-October. Stay tuned to https://www.nachc.org/trainings-and-conferences or email trainings@nachc.org
Upcoming 2021 Online Learning Events

The National Association of Community Health Centers (NACHC) offers a wide variety of education that encompass all facets of health center operations. Whether you need a refresher or are just starting in a health center, NACHC offers trainings that will help you become more effective. Topics include Financial Operations Management Levels 1-3, Revenue Cycle Operations, Workforce Resiliency, and Health Center Operations
Mark Your Calendars for these 2021 Online Learning Events!
*Upcoming: Three-part national COVID-19 Learning Series Featuring:
• Business continuity planning
• Data fundamentals
• Promising practice models in response to COVID-19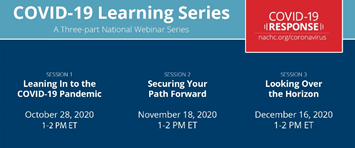 Session 1: Leaning In to the COVID-19 Pandemic
October 28, 2020
1-2 PM ET
Session 2: Securing Your Path Forward
November 18, 2020
1-2 PM ET
Session 3: Looking Over the Horizon
December 16, 2020
1-2 PM ET
Resources available on the Health Center Clearinghouse

HRSA's Bureau of Primary Health Care (BPHC) has charged the National Association of Community Health Centers (NACHC) with establishing a National Resource Center (NRC) and creating an online resource repository to meet the information needs of professionals for the purpose of building stronger and healthier communities. With technical assistance materials from 21 National Training and Technical Assistance Partners (NTTAPs), Primary Care Associations (PCAs) and Health Center Controlled Networks (HCCNs), the Health Center Resource Clearinghouse addresses the demands placed on a busy public health workforce by providing curated resources and tailored tools.
Visit https://www.healthcenterinfo.org/.

Unless otherwise noted*, all projects listed are supported by the Health Resources and Services Administration (HRSA) of the U.S. Department of Health and Human Services (HHS) as part of an award totaling $7,287,500 with individually noted percentage financed with non-governmental sources. The contents are those of the author(s) and do not necessarily represent the official views of, nor an endorsement, by HRSA, HHS, or the U.S. Government. For more information, please visit HRSA.gov.